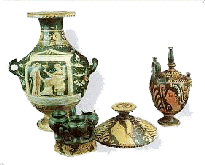 Dear visitors, during your stay on the island of Vis you have a unique opportunity to see the archeological monuments of the City of Vis, that had developed on the ruins of the ancient Issa, the first urban centre of Croatia.

We especially recommend you to visit the Museum of Vis situated in the Austrian fortress "Gospina batarija".

Besides the museum, you can also see the archeological excavations that are still researched.The archeological excavation Martvilo is situatedbehind the sports centre and represents the only old Greek cemetary in Croatia.
After this, if you walk along the sea coast, in approximately 5 minutes you can catch sight of another archeological excavation of the Roman thermae (public baths) from the 1.-2. century A.D..
If you continue walking, you will reach the church and the monastery of the Franciscans Conventuals, whose monastery complex from the 15th centurywas built on the ruins of the ancient theatre. The remains of the theatre can be seen in the monastery garden, while the walls contain the remains of the stone monuments of the ancient Issa. By the sea coast around Prirovo, the remains of the harbour buildings and the harbour of the ancient city, that is presently under the water, can be observed.